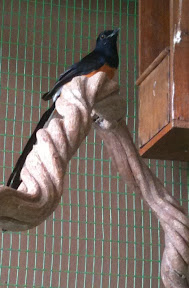 Just my luck that when I move this pair out, an egg was laid. For a long time when I did not disturb them, they did not produce. Have to choose during a molt to produce.... sigh!
Anyway, as with most first timers, I take a little consolation that the eggs may not be fertile (and proven with no activity in the incubator).
Thinking of getting a new incubator, but the seller is avoiding me like the plaque. Can't for the life of me understand why. The friend I recommend to buy from him just yesterday manage to get him on the phone at the first ring.... maybe my money not "halal" hahaha!